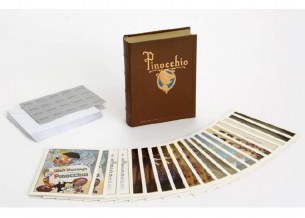 PINOCCHIO NOTE CARD SET
In a gift box inspired by the storybook in the film's opening sequence, this collection includes 20 notecards (2 ea of 10 designs), envelopes & stickers. Images include rarely seen production artwork and promotional material, history details on each card

Card
1.9 in H
Also Available in Pre-pack(s): 4054814

Twenty gold foil embellished notecards and envelopes.
Two each of ten different images.
Notecards include rarely seen animation art, film backgrounds, character model sheets, and a photo of Walt Disney with the Pinocchio marionette.
Includes twenty Walt Disney Archives Collection logo stickers to seal envelopes.
The keepsake storybook box has a magnetic closure and embossed detail.

WARNING: CHOKING HAZARD - SMALL PARTS! NOT INTENDED FOR CHILDREN UNDER 3.