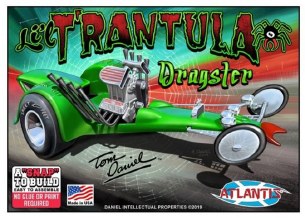 1/32 TOM DANIELS LIL TRANTULA
DRAGSTER SNAP TOGETHER PLASTIC MODEL KIT

Check it out it's another wild creation from designer Tom Daniel The Lil Tarantula in action the terror of the drag ship doing a giant Wheelie of a macabre spider web base. With big black slicks and a totally radical green body this mean rail features of huge Powerhouse with dual air intakes and eight spider leg pipes. Louvered skirts to help cool those big slicks and a cluster of headlight eyes that lets this monster see in the dark. The little Trantula will eat all the competition.

Features:

Molded in 3 colors
Dual Air Intakes
Spider Leg Pipes
Head Light Cluster
Spider Web Radius Rods
Spider Web Base
Fat Racing Slicks
Chute Pack
Snap Together Assembly

Skill Level: 1

WARNING: CHOKING HAZARD - SMALL PARTS! NOT INTENDED FOR CHILDREN UNDER 3.