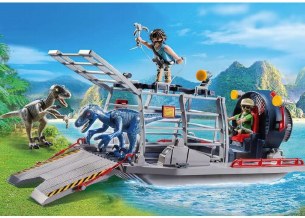 ENEMY AIRBOAT WITH RAPTOR
Upgrade this set with the underwater motor (7350 - sold separately) to propel the floating boat through water. Dimensions: 12.2-15 x 6.9 x 6.5 in (LxWxH).

Features:

- The Enemy Airboat floats.
- With a seat at the back of the boat for one figure.
- The fan blade can sping and both vertical rotor flaps are movable.
- The cage is removable.
- The drive-on ramp is foldable and can be set with the side bars into two different positions.
- The boat offers plenty of storage space for accessories such as a gas can and a grappling hook.
- The set contains 2 figures with accessories and 2 Raptors.
- This set is compatible with the Explorer Vehicle With Stegosaurus (9432) and with the Enemy Quad with Triceratops (9434).

Pieces: 67

WARNING: CHOKING HAZARD-SMALL PARTS! NOT INTENDED FOR CHILDREN UNDER 3.