Sale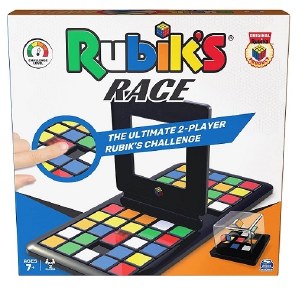 RUBIK'S RACE GAME
CLASSIC BOARD GAME: Rubik`s Race is a high intensity two player board game designed to get your brain and fingers racing at an extreme pace. A strategy racing game like no other.
SHIFT, SLIDE & SOLVE: Shake the scrambler and race head to head against your opponent. Shift and slide the tiles to become the first racer to match the 3x3 center of the scrambler`s Cube pattern.
A GAME OF ULTIMATE SKILL: It sounds easy enough, but the Rubik`s Race is a board game of skill, speed and dexterity. Be the first to drop the divider frame on their completed side of the board.
CHALLENGE YOUR FRIENDS & FAMILY: The ultimate two player face to face race. Take on your friends or family wherever you are. Who will be the first player to match the pattern of the nine coloured squares?
EXPAND YOUR COLLECTION: If you are a fan of the original RubikÕs Cube, prepare yourself for hours of racing fun with an opponent of your choice. This board game is an official RubikÕs creation so shift and slide until you have solved the formidable RubikÕ


WARNING: CHOKING HAZARD-SMALL PARTS! NOT INTENDED FOR CHILDREN UNDER 3.