Sale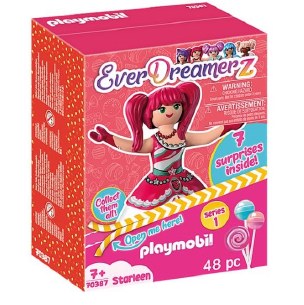 STARLEEN
7+

Starleen likes to be the centre of attention, because her favourite hobbies are singing and dancing. She can stand in front of the mirror for hours and prepare herself for her big performance. As a reward for a good show she likes to eat a strawberry ice cream with her friends. Incl. silicone bracelet, jewellery beads and ice charm, trading card, sticker and lots of accessories.
Welcome to the world of dreams - welcome to the realm of EverDreamerz! Rosalee, Viona, Edwina, Clare and Starleen are five friends with big dreams. When the girls find a magical amulet, a portal opens into another universe, the land of their dreams. First, the five friends travel to Rosalee's dream world, where everything revolves around sweets. A big strawberry ice cream fan, Starleen also feels right at home in Candyworld. Starleen loves to sing and dance and loves to be the centre of attention. She likes to spend hours in front of the mirror to be appropriately styled for the big performance. But if her friends wave a delicious strawberry ice cream, her beauty care is soon forgotten. The playsets contains EverDreamerz character Starleen and her cute meerkat, sundae, hand mirror, hairbrush, perfume bottle, handbag and many other extras. Starleen's has an ice cream cone as a special charm. Great collecting effect: Each EverDreamerz character has its own silicone bracelet for children with individual character pendant for collecting and swapping. The character and its accessories can be stored in the colourful package and taken along.

Pieces: 48

WARNING: CHOKING HAZARD - SMALL PARTS! NOT INTENDED FOR CHILDREN UNDER 3.