Sale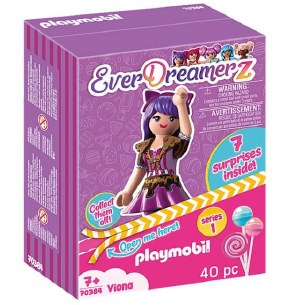 VIONA
Viona is the mysterious daydreamer of the girls' group. She likes to express her feelings through poems and paintings, preferably in purple. She loves chocolate, just like her panda bear, who often bites off a piece of the chocolate bar. Incl. silicone bracelet, jewellery beads and chocolate charm, trading card, sticker and many accessories.
Welcome to the world of dreams... Welcome to the realm of EverDreamerz! Rosalee, Viona, Edwina, Clare and Starleen are five friends with big dreams. When the girls find a magical amulet, a portal opens into another universe, the land of their dreams. First, the five friends travel to Rosalee's dream world, where everything revolves around sweets. Daydreamer Viona loves to eat chocolate, just like her faithful little companion, a cute baby panda. Chocolate cake, muffins, ice cream, gingerbread - luckily there are plenty of chocolate treats in Candyworld. As a little snack, Viona just takes a little bite off her chocolate bar which is always in her pocket. Besides her passion for chocolate, creative Viona loves to write poems and to paint wonderful paintings. Viona's wealth of ideas often helps the girls in difficult situations to find an original solution. The playset consists of EverDreamerz character Viona with her purple baby panda and bamboo leaf, chocolate cake, gingerbread heart, muffins, chocolate ice cream, milk, as well as bag, cup and bracelet with pearls and charm. Great collecting fun: Each EverDreamerz figure has its own silicone bracelet with an individual character charm for children who love collecting and swapping. The character and its accessories can be stored and taken along in the colourful package.

Pieces: 40

WARNING: CHOKING HAZARD - SMALL PARTS! NOT INTENDED FOR CHILDREN UNDER 3.